CHICAGO LOUD 9 – PRESS KIT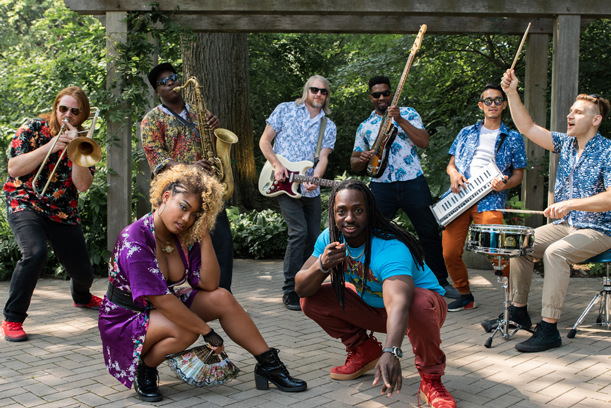 Conceived for what was supposed to be a one-off show at House of Blues Chicago, Chicago Loud 9 materialized as a nine-piece Funk/Hip Hop/R&B/Soul band that brings nothing short of high-intensity, energy-filled musical performances. Comprised of members that are hard at work in the vibrant Chicago music scene, Chicago Loud 9 showcases a dynamic, horn-driven, foot-stomping performance at each live show. They have been listed in Illinois Entertainer as one of the "Best Local Acts in Chicago", and also featured as the house band on daytime talk shows Windy City Live on ABC-7 and The Jam on WCIU-26.
Chicago Loud 9 blends Funk, Soul, and R&B with Hip Hop, Rock and Reggae, drawing influences from artists such as Earth, Wind, & Fire, Outkast, The Roots, Bruno Mars, Chicago, Snarky Puppy, Nirvana, Bob Marley, Anderson .Paak, Red Hot Chili Peppers, and Beyoncé. The band released the album "Reason" in the Summer of 2017, their third album to-date. With new material on the way, their existing catalogue can be heard on all streaming platforms: Spotify, Apple Music, YouTube, Soundcloud, Amazon Music, Bandcamp, etc. Follow them on all social medias @chicagoloud9.
PRESS
WCIU "The Jam" Morning Show – Chicago Loud 9 Performs "Fresher" Live
WCIU "The Jam" Morning Show – Chicago Loud 9 Performs "Movin' On" Live
Vocalo 91.1FM Radio Interview – Chicago Loud 9 Talks New Album Release
Windy City Live on ABC 7 Chicago – cLOUD9 as WCL House Band
F-Style Chicago Mag – Music Playlist – Issue #11
The Examiner – "Just Once" Release at Cubby Bear
Illinois Entertainer – Top Local Acts
Chicago Suntimes – CIMM Fest 2016
Press Releases:
"Reason" LP Release – June 2017
"Fresher" Video Release – April 2017
Windy City Live – Jan 2016
"Just Once" EP Release – August 2015
"Punk Soul" Single Release – Feb 2015
Upcoming Shows
–>