Biography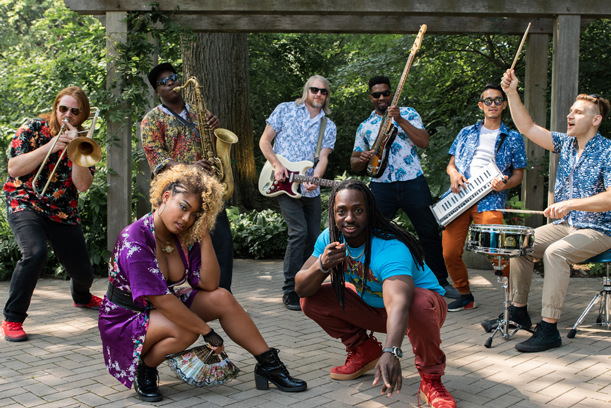 Conceived for what was supposed to be a one-off show at House of Blues Chicago, Chicago Loud 9 materialized as a nine-piece Funk/Hip Hop/R&B/Soul band that brings nothing short of high-intensity, energy-filled musical performances. Comprised of members that are hard at work in the vibrant Chicago music scene, Chicago Loud 9 showcases a dynamic, horn-driven, foot-stomping performance at each live show. They have been listed in Illinois Entertainer as one of the "Best Local Acts in Chicago", and also featured as the house band on daytime talk shows Windy City Live on ABC-7 and The Jam on WCIU-26.
Chicago Loud 9 blends Funk, Soul, and R&B with Hip Hop, Rock and Reggae, drawing influences from artists such as Earth, Wind, & Fire, Outkast, The Roots, Bruno Mars, Chicago, Snarky Puppy, Nirvana, Bob Marley, Anderson .Paak, Red Hot Chili Peppers, and Beyoncé. The band released the album "Reason" in the Summer of 2017, their third album to-date. With new material on the way, their existing catalogue can be heard on all streaming platforms: Spotify, Apple Music, YouTube, Soundcloud, Amazon Music, Bandcamp, etc. Follow them on all social medias @chicagoloud9.
cLOUD9 is:


Dhan Dee – Emcee
Dhan Dee has been a lifelong Poet and Writer. Dhan is an emcee who originally hails from Chicago's west side and then the lower north side respectively. He recorded his first song at 14 and has been going full speed ahead since then. Before Dhan was frontman of Chicago Loud 9, he was in Hip Hop supergroup A-Team on S.K.Y Entertainment. His Motivation of wanting to have a live band came from seeing the Roots live and in person in 2007. Outside of music Dhan is a personal trainer for Chicago Fit 4 Life who puts on the No Excuses Fitness Bootcamp, which is the largest fitness bootcamp in the city of Chicago.

Aya Smith – Vocals
Aya, aka Blazian sensation, aka the Blackanese one, aka Harmony of Colors, is a Japanese & Black American singer and songwriter born in Tokyo and raised in the Midwest. As her passion in life has always been singing, she sang with Indiana's state champion show & concert choirs, her school gospel choir, started her own bands in both high school and college, and sang with multiple a cappella groups at her university. After graduating from the University of Chicago in 2014 with two degrees, neither of which have anything to do with music, she decided to pursue a career in music. In September of that year, Aya joined Chicago Loud 9 as their new lead vocalist. Her diverse background in music is a great fit for the group and the talent of the musicians motivated her to write original tunes and to continue on her path towards becoming a full-time performer. She is also starting to use her Japanese and Spanish language skills in her songwriting and hopes to bring a distinct touch to contemporary music by weaving together influences from different cultures.

Chad Wynes – Guitars
Chad Wynes was one of the many people who felt a deep connection to the Grunge sound of the early 90's and he immediately felt the need to pick up a guitar and join the movement. He formed his first band in 1995 in his hometown of Silvis, Illinois and has continued to perform ever since. Chad ultimately decided to pursue a full time music career and set off for Chicago in 2002. He spent the next 10 years performing original live music in Chicago while being exposed to many new influences and other like-minded musicians. He became a founding member of Chicago Loud 9 in 2012 and, outside of the band, he enjoys producing hip-hop and electronic music and running his own graphic design company.

Kyle Voivodas – Percussion
Like most prospective drummers, Kyle discovered his passion at a young age – by making drum sets out of pots and pans in the kitchen. Growing up in Indianapolis, he was fortunate enough to go to school in Lawrence Township which has one of the best Performance Arts systems in the country. He studied percussion in classical music, concert band, jazz, was the drummer in the school pep band, and was a Bands of America National Champion in marching band. The pursuit of musical studies continued and he received a college degree in Music Theory and History. He has gone on to pursue his career in the great music scene of Chicago, where through crazy circumstances, he met the members of Chicago Loud 9. He is a former Music Director at School of Rock where he instructed kids of all ages the skills and principles to rock on stage – and in life.

Tayiib Dauda – Saxophone
Middle school band director by day, saxy performer by night; Tayiib Dauda is a multi-instrumentalist who specializes in everything woodwind. Tayiib grew up in Las Vegas and began performing the local scene while still in high school with his funk-based jam band. He then moved to Chicago where he received his B.A. in Music Education from VanderCook College of Music and later completed his Master's Degree in Symphonic Conducting at Missouri State University in Springfield, MO. When he's not playing tasty horn lines with cLOUD9, you may see him performing with various Jazz Big Bands throughout the Chicagoland area.

Eddie Lin – Keys
Eddie Lin plays piano/keys and produces occasionally. He found himself in those jazzy and soulful tastes of chord along with funky and dancey grooves of rhythm. He moved to Chicago from the other side of pacific, Formosa Taiwan. He types codes on keys by day and lays music on keys by night. He's been influenced by all the legends and genres of music from jazz, funk to soul and hip hop. Eddie has been active in the music scene in Taiwan, playing in couple swing, funk and blues bands before coming to Chicago in 2016. Now becoming a new blood in Chicago Loud 9 takes his music life into a different level.